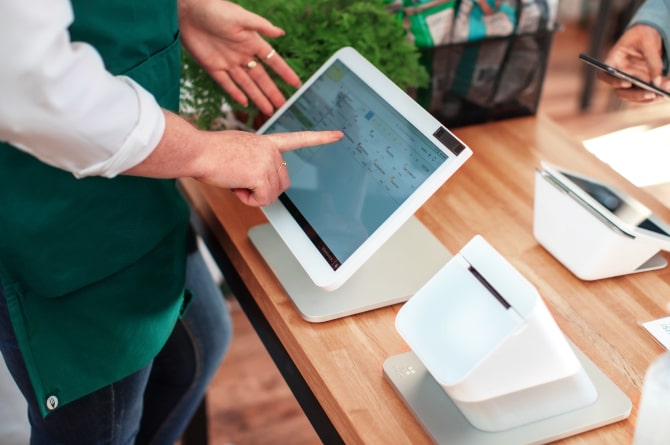 In the current fast-paced and digitally driven landscape, it's essential for small businesses to choose the best payment systems. Shifting consumer behaviours and technological advancements have led to a rapid transformation in Point-of-Sale (POS) systems. They now do a lot more than your traditional cash register and play a crucial role in the everyday running of a business. Having the right payment system to support your operations can make life easier for both your employees and your customers. 
In this article, we explore the best payment systems for small businesses and discover how they can help to overcome challenges in modern companies. 
Card Payments
Particularly since the COVID-19 pandemic, the vast majority of consumers prefer to make card payments. In fact, a 2023 study by Forbes shows that 54% of consumers pay using a debit card and 36% pay with credit card transactions. It's no secret that card payments have largely replaced cash. Whether it's paying at a restaurant, in a retail store, or even at the corner shop, it's much easier to quickly pull out a card than it is to start counting change. 
If small businesses owners don't facilitate card payments, they could be missing out on crucial sales and discouraging new customers from purchasing their products or services. Consumer behaviour has shifted, and many people don't carry cash with them as a backup option. This highlights just how much things have changed in the past few years and also emphasises the importance of card readers as a payment system for small businesses.
Direct Debit 
Direct debit has quickly become a centrepiece of modern payment methods. It lets businesses and service providers pull payments from consumers' bank accounts on a set date. These bank-to-bank transactions use the BACS network, which increases safety and helps to ensure financial security compliance.
While direct debits are primarily used for automatically scheduled payments, they can also facilitate one-off payments. This flexibility as a payment processor makes it an even more popular option for consumers and businesses alike. Small businesses can hugely benefit from direct debit as it eliminates the problem of late payments, meaning they won't face any unexpected issues that could impact their business.
Digital Wallets (Contactless Payments) 
Digital wallets have massively risen in popularity lately as a leading payment system for small businesses. This is because they only require a mobile POS system to get started. It's also advantageous for consumers because so many of them are now using Google Pay and Apple Pay, which means they can easily pay with a simple tap of their phone.
Ease of use has become a huge factor in the modern era. Technological advancements have drastically increased efficiency and help to make paying a seamless process that only takes a couple of seconds. Digital wallets play an important role in these advancements, taking advantage of the fact that almost everyone uses a smartphone with the ability to make contactless payments.
Online Payments
For small businesses, it's crucial to accept as many forms of payment as possible. This includes online payments, which are easy to set up and can accept payments through a website, email campaigns, or even social channels. These additional options mean that small businesses can extend their reach and take payments from a wider range of consumers.
Online payment methods are also advantageous because they can accept payments around the clock. As long as your customers can access their virtual terminal, they can instantly make secure payments on ecommerce platforms. Whether they'd prefer to pay online, or through an email, or text message, the choice is entirely in their hands. 
Choose the right payment system for your small business
There are many payment systems for small businesses to choose from and it's vital to select the right ones that are most convenient for your customers. Being able to quickly take payments helps to eliminate queue times, free up your employees to cater to more consumers, and keep your business running smoothly.
To learn more about Clover's range of POS systems, contact our team today. You can also view our solutions to see how our products can help your business.