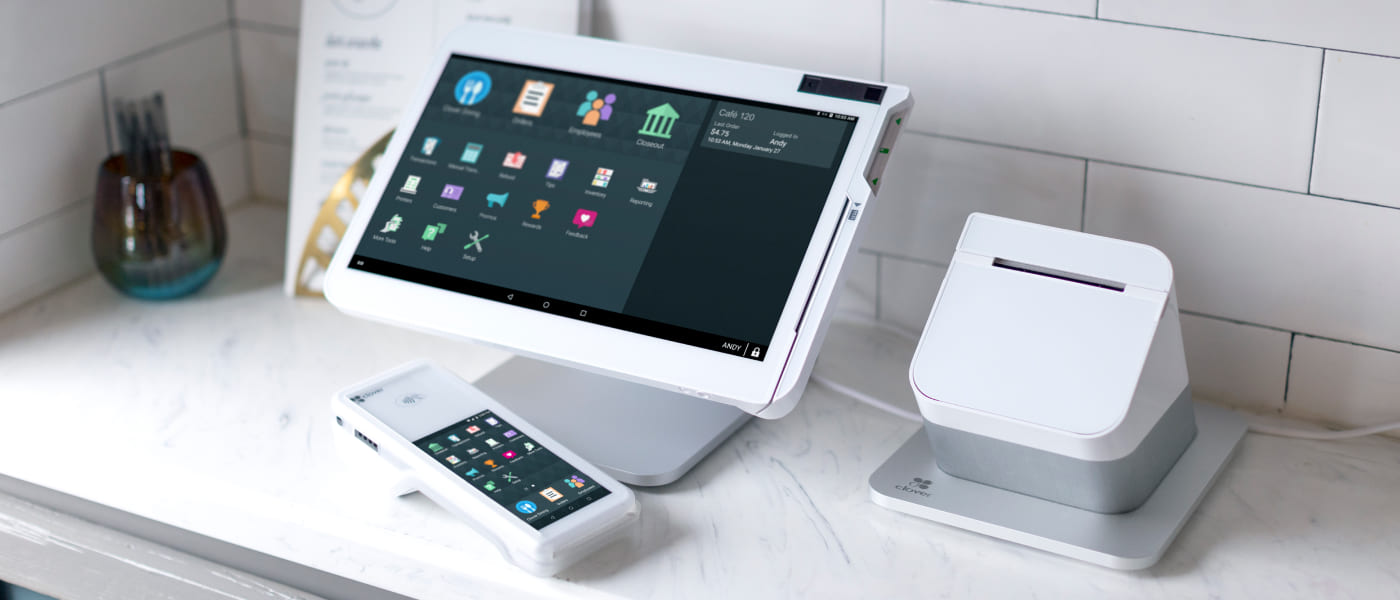 The Benefits of an EPOS System for your business
The benefits of EPOS (Electronic Point of Sale) systems for small businesses are widespread, helping to streamline services and provide a range of useful features for merchants and customers alike.
In today's digital era, staying ahead means embracing technological innovations that shape the way we conduct business. EPOS systems do more than just take payments from customers. In fact, the best EPOS systems are comprehensive management tools that provide support and transformative benefits to all aspects of a modern business.
In this article, we delve into the benefits of using EPOS systems and highlight how they can give your business a competitive advantage.    
So, what are the benefits of using an EPOS system?
Mobility and flexibility
Traditional Point-of-Sale systems confined customers to long queues at the till. But now, business owners have the option to bring the till directly to their customers' fingertips.
This ability to be portable and flexible offered by EPOS systems is crucial in today's business landscape, as technological advancements like cloud-based services and wireless connectivity have changed consumer behaviour and market trends.
You can now deliver an improved customer experience, as your staff members can move freely through your premises and take payments at your customer's convenience. Whether it's a retail store or a restaurant, the flexibility of EPOS systems is a huge benefit.
Business reporting capabilities
Another key benefit of EPOS systems is their ability to provide accurate insights and analysis into your business operations such as:
Sales performance
Average transaction value
Customer loyalty
Overall business health
Opportunities for improvement
With real-time reporting and a data-driven approach, you'll have the statistics to help you make informed decisions that maximise profitability.
Centralising and streamlining operations
There are many challenges that come with running a business, from inventory management to sales recording. One of the main benefits of EPOS systems is that they centralise all of these processes into a single compact device, which means you can spend less time managing things separately.
With a powerful POS system at the heart of your business, you can have peace of mind that your employees and customers will enjoy an all-round smoother experience. Whether it's quickly viewing stock levels or checking the staff rota, you can enjoy an all-in-one solution to the many challenges of daily business life.
Facilitating more payment methods
Modern EPOS systems not only excel in stock management and collecting customer data, but also in facilitating fast and secure transactions. In recent years, cashless payments have had a meteoric rise in popularity, thanks largely to the COVID-19 pandemic but also because of their convenience and ease of use.
With many customers relying solely on virtual payments and often foregoing cash altogether, it's essential for businesses to have EPOS systems that cater for everyone. Without providing this option, you could be limiting your sales and causing potential customers to abandon their purchases due to limited payment choices.
Adapting to the modern digital landscape
From communication and entertainment to commerce and business, the world is rapidly embracing the digital shift. The ability to quickly connect to the internet and access cloud-based services has largely driven this trend. People are able to engage with the digital world with more ease than ever before, and making virtual payments is no exception.
Embracing EPOS technology is essential for businesses looking to gain that competitive edge in today's digital landscape. They enhance customer experience, automate processes, and reduce the chance for human error. The bottom line is that much like other pieces of modern technology, they're simply a better alternative to the traditional methods.
What are the different types of EPOS systems?
Each business is unique, and finding the right EPOS systems that align with your needs is crucial for success. Finding the right mix of hardware and software to help you grow and manage your business while meeting daily needs is essential.
Take a look at our range of solutions below to see how businesses of all sizes can enjoy the benefits of an EPOS system.
For businesses on the move, Clover Flex offers the perfect solution. This handheld card machine provides portability without compromising on functionality. With apps that cover everything from stock control to staff schedules, Clover Flex ensures that small businesses can efficiently manage their operations while staying secure and compact.
Combining power and convenience, Clover Mini is a small, yet robust EPOS system will elevate your business to the new heights. Packed with innovative features, this compact device offers a seamless experience and empowers you with the tools to take your business to the next level.
For the most comprehensive EPOS solution, look no further than the Clover Station Pro. This beautifully designed machine serves as the ultimate customer-facing terminal. With complete customisability through the Clover Dashboard and supported with a range of apps, this cutting-edge machine ensures that your business operations are streamlined and optimised.
Get an EPOS system today

Having explored the main benefits of EPOS systems, it's evident why they've become a mainstay in modern businesses. Beyond their function of taking secure payments, they provide widespread support and facilitate growth in many different ways.
To find out more about any of our EPOS systems or how they can help your business, feel free to get in touch with us today.